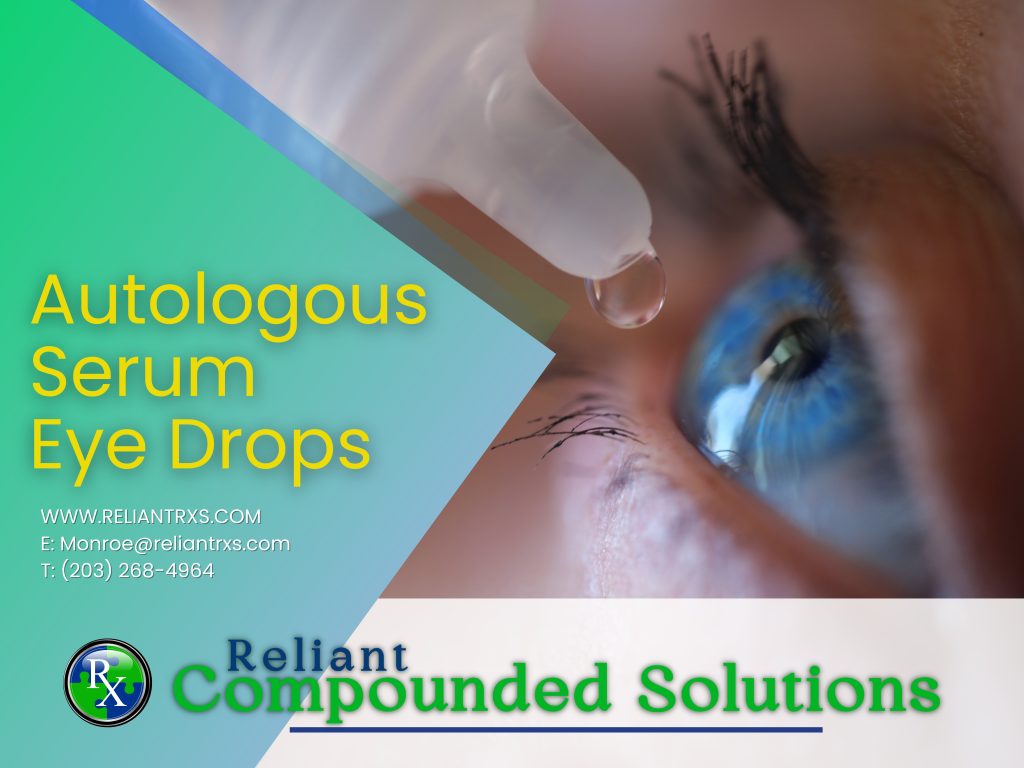 Introduction:
Ophthalmologists constantly strive to provide the best care for patients, especially when it comes to managing challenging ocular surface disorders. In our pursuit of innovative treatment options, one remarkable solution has emerged: Autologous Serum Eye drops. In this blog post, we will explore the benefits of prescribing Autologous Serum Eye drops, particularly in comparison to commercially available products. We are excited to share that a specialty service for Autologous Serum Eye drops is available at Reliant Compounded Solutions in Monroe.
The Benefits of Autologous Serum Eye Drops:
Why choose Autologous Serum Eye drops over commercially available products?
The answer lies in the uniqueness of these drops and the way they interact with the patient's own body. Autologous Serum Eye drops are derived from the patient's own blood, making them personalized and highly compatible with the individual's ocular system.
1. Enhanced Compatibility:
The use of autologous serum ensures that the eye drops contain essential components naturally found in the patient's own body. This significantly reduces the risk of adverse reactions or side effects that may arise from commercially available products, which often contain preservatives and additives.
2. Precise Healing Properties:
The patient's serum is rich in growth factors, vitamins, and anti-inflammatory agents that promote optimal healing of the ocular surface. These natural components nourish, protect, and repair the delicate ocular tissues, addressing the underlying causes of conditions such as severe dry eye, persistent corneal erosions, and ocular surface disease.
3. Personalized Treatment:
Each patient's blood contains a unique blend of factors that can vary from case to case. By utilizing Autologous Serum Eye drops, we can tailor the treatment specifically to the individual's needs. This personalized approach can lead to improved therapeutic outcomes and patient satisfaction.
The Process of Preparing Autologous Serum Eye Drops
Reliant Compounded Solutions in Monroe specializes in providing Autologous Serum Eye drops, ensuring the highest quality and safety standards. Let's briefly walk through the process involved in preparing these eye drops:
1. Blood Collection:
A small blood sample is collected from the patient from a local testing site of the prescribers choosing. This procedure is straightforward and minimally invasive, similar to a regular blood draw.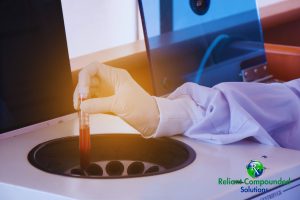 2. Centrifugation:
The blood sample is then carefully processed using a specialized centrifuge. This process separates the serum from the blood components, allowing for the extraction of the beneficial components needed for the eye drops.
3. Sterile Preparation:
The extracted serum is mixed with sterile preservative-free saline solution, creating a sterile, customized eye drop solution for the patient. The compounded eye drops are prepared in a controlled environment to maintain purity and efficacy.
Conclusion
Autologous Serum Eye drops represent a significant advancement in ocular surface disorder management. By utilizing the patient's own serum, these eye drops offer superior compatibility, precise healing properties, and a personalized treatment approach. Reliant Compounded Solutions in Monroe, Connecticut specializes in providing this groundbreaking service, ensuring the highest standards of quality and safety.
Ophthalmologists now have the opportunity to revolutionize patient care by prescribing Autologous Serum Eye drops in the Connecticut, New York, New Jersey and the New England area. Embrace this innovative solution and explore the remarkable results it can bring to your practice and the lives of your patients.
Elevate your ocular surface care with Autologous Serum Eye drops from Reliant Compounded Solutions – the future of personalized treatment.
#Ophthalmology #AutologousSerumEyeDrops #ReliantCompoundedSolutions #InnovationInCare