---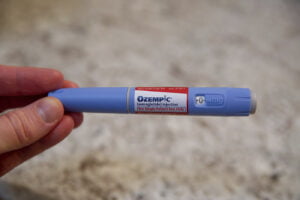 Are you or someone you know struggling with diabetes? If yes, then you might have heard about the drug Ozempic, also known as semaglutide. It is a popular medication that is making headlines not just among regular folks but also among celebrities like Mindy Kaling and Kardashians. But what exactly is Ozempic, and why is everyone talking about it? Let's find out!
What is Ozempic or Semaglutide?
Ozempic is an injectable medication used to treat type 2 diabetes. It belongs to a class of drugs called glucagon-like peptide-1 (GLP-1) receptor agonists. The drug works by mimicking the hormone GLP-1, which stimulates insulin production, reduces glucose production in the liver, and increases glucose uptake in the body's cells.
---
Why is Ozempic Making Headlines Among Celebrities?
Celebrities like Mindy Kaling and Kardashians have publicly talked about their use of Ozempic and how it has helped them manage their diabetes. Mindy Kaling, the well-known actress, writer, and producer, took to Instagram to share her positive experience with Ozempic, saying, "I've been taking Ozempic for a few months now, and it's been a game-changer in managing my type 2 diabetes."
Why is Ozempic not Available to Everyone?
While Ozempic has gained popularity among celebrities and the general public, it is not available to everyone who needs it. The drug is only available with a prescription and may not be suitable for everyone, especially those with a history of thyroid cancer or pancreatitis. Additionally, Ozempic is a relatively new drug, and its long-term effects are still being studied.
Another reason why Ozempic may not be available to everyone is its cost. The drug can be expensive, and not all insurance plans cover it. Patients may have to pay out of pocket or look for alternative treatments.
Ozempic Nationwide Backorder
Ozempic may not be available to everyone due to supply issues leading to the recent nationwide backorder. In September 2021, the drug's manufacturer, Novo Nordisk, announced that Ozempic was experiencing a nationwide shortage due to supply chain disruptions caused by the COVID-19 pandemic.
This backorder has left many patients without access to their much-needed medication, causing concern and frustration among the diabetes community. Some patients have reported difficulty getting their prescriptions filled, while others have had to switch to alternative treatments.
Novo Nordisk has stated that they are working to resolve the supply issue and increase production to meet the demand for Ozempic. They have also advised patients to speak with their healthcare providers about alternative treatment options in the meantime.
If you are currently taking Ozempic and have been affected by the backorder, it is important to speak with your healthcare provider. They can help advise you on alternative treatments and work with you to manage your diabetes until the supply of Ozempic is restored.
Conclusion
Ozempic or Semaglutide is a revolutionary drug that is making headlines for all the right reasons. It is a powerful medication that helps manage type 2 diabetes, and its effectiveness is well-documented. It is important to consult with a healthcare provider before taking any medication, including Ozempic.
Interested in our content? Checkout our blog!